ST. LOUIS – Nov. 10, 2022 – UniGroup, the parent company of recognized brands Mayflower Transit and United Van Lines, presented its first-ever Household Goods Member of the Year Award to Dodge Moving and Storage. Dodge, located in Earth City, Missouri, was recognized out of more than 200 members at UniGroup's Convention in Huntington Beach, California.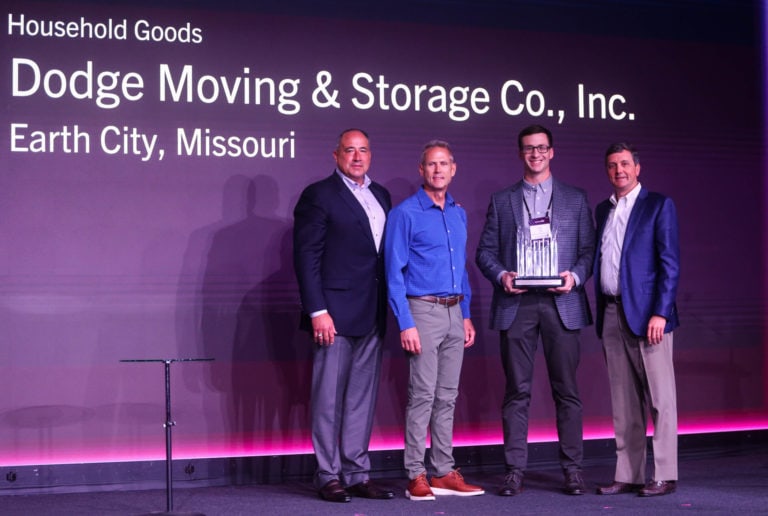 The Household Good Member of the Year award takes into consideration the standard measures of excellence such as on-time delivery, claims ratio and revenue growth. But, also includes factors such as network participation, support and engagement.
Families move for a variety of reasons whether it's new jobs, to be closer to loved ones or for new experiences. No matter the reason, UniGroup members representing United Van Lines and Mayflower Transit strive to ease their customers' stress, make the move seamless and provide service excellence. Dodge has proven even through difficult times such as the pandemic and economic uncertainty, that it's still possible to excel in these areas.
One customer mentioned.
"We had never moved cross country before. So we were a little intimidated and nervous. The folks were fantastic at Dodge Moving and Storage. They answered our questions with patience and kindness."
Another customer stated.
"(The move was) well planned, managed and executed. Everyone was very professional and friendly and constantly checked in to see if we needed anything."
The award was accepted by Dodge Executive Vice President and COO Tom Linhares. "The Dodge team is energized and appreciative of the award recognition as the UniGroup Member of the Year, household goods," Tom said. "Our company has benefited greatly from our agency partners and the entire UniGroup network. We are certain the best is yet to come as we are now all aligned and working together as a cooperative. The service Dodge delivers every day to our customers is a direct result of the excellence of the agent network and the support of UniGroup. This recognition is a validation of our entire team here at Dodge. Thank you for your passion and relentless focus on serving the customer."
Dodge has been a leader in the transportation industry for 100 years providing extraordinary services. They excel in safety, service, growth and UniGroup network support.
About Dodge Moving and Storage
Dodge Moving and Storage Co., Inc. is a full-service relocation company with over a century of experience specializing in the transportation and storage of household goods, electronics, high-value products, office/industrial equipment, commercial warehousing and last mile delivery services. Dodge serves individual customers, senior living communities, corporations and government agencies with moving and storage services. Dodge Moving & Storage has been in St. Louis since 1902 and became part of the Mayflower Transit family in 1972. Dodge delivers exceptional service by building, incentivizing and retaining the best possible team of dedicated employees.
About UniGroup
UniGroup is a $1.5 billion transportation and relocation services company with headquarters in suburban St. Louis. In addition to household goods carriers United Van Lines and Mayflower Transit, logistics company UniGroup Logistics and international relocation provider UniGroup Worldwide Moving, UniGroup owns other subsidiaries that provide goods and services to professional movers. For more information visit UniGroup.com.
For further information:
Chasity Cummings
chasity_cummings@unigroup.com
(636) 305-4423