SANTA FE SPRINGS, CA – (March 24, 2023) – Martin Delaney of King Relocation Services in Santa Fe Springs, California, was recently presented with this year's UniGroup Operations Excellence Award. UniGroup Executive Vice President of Household Goods Operations Charles Cunningham recognized him at the organization's national sales and operations conference held in St. Louis.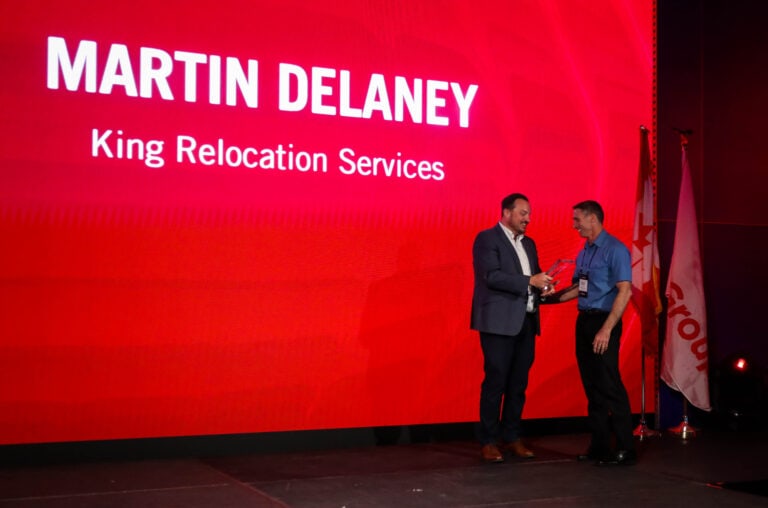 The Operations Excellence Award acknowledges excellent individual performance in the field of operations at both their agency and within the UniGroup system. The recipient must have demonstrated a passion for exceptional performance, teamwork, professionalism, integrity, commitment and achievement for a common goal. Only one individual is chosen for the annual award from the tens of thousands of employees at the more than 500 domestic agencies.
He is supremely professional and a team player through-and-through who consistently views the customer as a priority while maintaining the best safety practices
Steve Komorous President of King Relocations Services said. "In his operations role, things are not always easy and often presents very tough decisions; yet he remains steadfast and always makes the right decision."  
When we asked what this award meant to him, Delaney said, "About 30 years ago in what was then the Operations Conference, I sat in a room of 200 passionate professionals. Looking around this year, I realized the talent pool was deep and the odds of ever winning this award were remote; it would take something extraordinary. The truth was much simpler; respect everyone, do what's right, maintain a collected head and strive for personal relationships with like-minded people. That simple strategy reaps its own rewards, recognized or not. I applaud all who share these ideals."
About King Relocation Services
As an agent of United Van Lines, King Companies has the resources and expertise to be your "go-to" resource for all relocation needs. Whether you are relocating your household, moving an office, or are in need of logistics services. To learn more about our services, visit is at www.kingcompaniesusa.com. Connect with us on Twitter, Facebook and Google+ for more information.
About UniGroup
UniGroup is a $1.5 billion transportation and relocation services company with headquarters in suburban St. Louis. In addition to household goods carriers United Van Lines and Mayflower Transit, logistics company UniGroup Logistics and international relocation provider UniGroup Worldwide Moving, UniGroup owns other subsidiaries that provide good and services to professional movers. For more information visit UniGroup.com.