MEMPHIS – (March 24, 2023) – Bruce Waller of The Armstrong Company in Memphis, Tennessee, was recently recognized as this year's UniGroup's Sales Stewardship award winner. UniGroup President and CEO Jason Mills presented the award to Waller at the organization's national sales and operations conference held recently in St. Louis.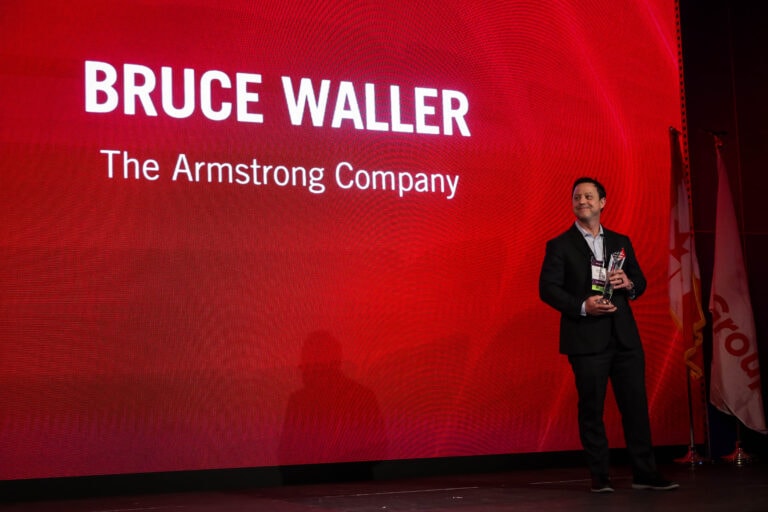 The Sales Stewardship Award recognizes an individual nominated by the agency family who has demonstrated superior performance through their professionalism, integrity and commitment. This individual must also make a significant impact on the industry as an agency representative with a proven sales track record, who contributed to the profitability of both the agency and the UniGroup system. Only one individual is chosen for the annual award from the thousands of employees at the more than 500 domestic agencies.
Through the nomination process, one of Bruce's colleagues said,
Bruce's superior level of industry knowledge is generously shared by providing best practices to relocation professionals and facilitating open, peer-to-peer dialogue among those he frequently meets so they can also learn from each other.
"This is a well-deserved honor for Bruce," Chris Paonessa President of The Armstrong Company said. "I'm proud of all him and his daily pursuit of excellence, His dedication to Armstrong, and the industry as a whole is a joy to be a part of."
Waller is very honored to receive this award. "It was such a surprise and a true honor to receive this prestigious award. I remember witnessing a colleague win this award in 2006 and thinking then how special it was. In sales it is common to wonder if your daily efforts are seeking a profitable return. This award is an incredible reminder to stay the course, keep believing, keep learning and be a resource of encouragement for everyone along your path. I've been blessed with an incredible support system from my local team, the larger organization and entire UniGroup network. Thank you to UniGroup and The Armstrong Company for this recognition."
About The Armstrong Company
A family-owned company, Armstrong Relocation was founded as a single operating company based in Memphis, Tenn. in 1957 and has since grown to be an industry-leading provider of moving, relocation and supply chain solutions. With 31 owned-locations, over 400 drivers, 1,400 employees and more than three million square feet of warehouse space, Armstrong's current services include residential and commercial relocation and storage, international freight forwarding, domestic transportation management, logistics and warehousing. For more information about Armstrong visit ArmstrongRelocation.com.
About UniGroup
UniGroup is a $1.5 billion transportation and relocation services company with headquarters in suburban St. Louis. In addition to household goods carriers United Van Lines and Mayflower Transit, logistics company UniGroup Logistics and international relocation provider UniGroup Worldwide Moving, UniGroup owns other subsidiaries that provide good and services to professional movers. For more information visit UniGroup.com.